STONEHENGE™ COLLECTION
PLUG & PLAY
Easy to own, affordable to operate and durable enough to withstand some of the harshest climates.

Enjoy a relaxing oasis in your own backyard with the Stonehenge Collection, our most popular spa line for families. With a unibody construction, this easy-to-install, energy efficient spa is built with lasting durability in mind.

All models come Plug & Play at 120V / 15 amp or convertible to 240V / 30-50 amp with a 4 kW heating. Choose from 3 disticnt models for your preferred style, size and price!
---
SELECT BETWEEN 4 CONTEMPORARY SPA BODY COLORS AND YOUR CHOICE
OF BRICK OR WICKER TEXTURED PANELS!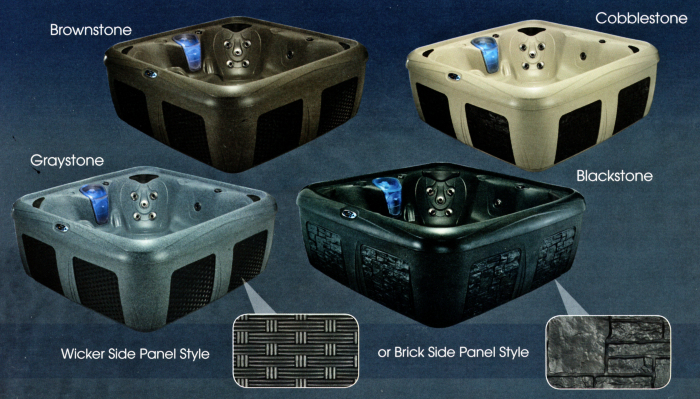 OUTSTANDING FEATURES STANDARD ON STONEHENGE SPAS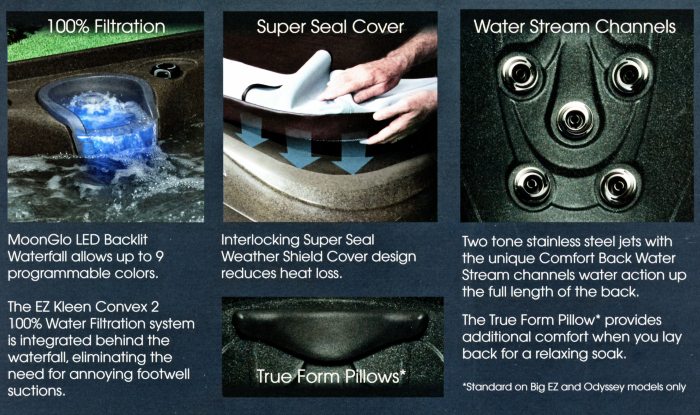 COLOR SELECTION GUIDE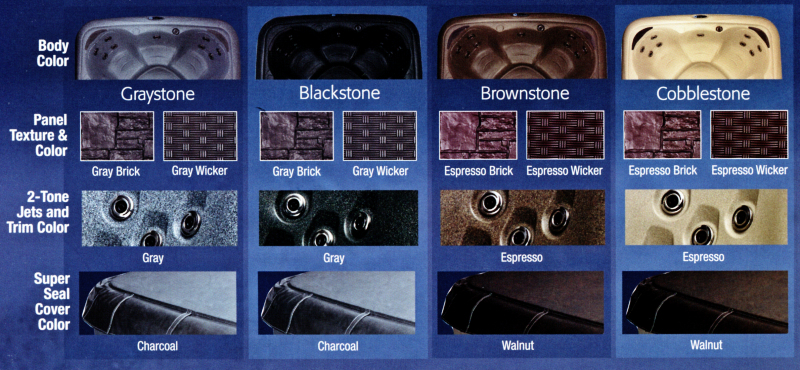 ---
Dream Maker Spas are the simple, affordable, durable way to enjoy a tranquil spa getaway steps from your home. Designed with the user in mind, each spa is built to be the ultimate in relaxation and enjoyment.
As an industry leader, Dream Maker Spas has years of experience using rotational molding technology. We continue to innovate the process and hold several industry-leading patents.
A wide variety of models. Dream Maker Spas offers ten models, each with a unique seating and jet arrangement allowing you to select the perfect spa to fit your space, budget and lifestyle.
Three spa color choices. A hot tub from Dream Maker Spas becomes the centerpiece of any outdoor space thanks to its elegant design. Choose from CobbleStone, BrownStone or GrayStone to compliment your garden, patio, deck or anywhere you choose to enjoy your hot tub.
Jet placement and design. Strategic jet placement and design creates the optimal hot tub experience. The adjustable jets allow you to customize your hydrotherapy experience, and their arrangement pinpoints tension-holding muscle groups for a massage that relieves stress and pain.
Durable, rotationally molded body. All spas are built using a tough thermal plastic to create a solid unibody construction guaranteed not to rot, split, crack, peel or rust. Since the nature of the material doesn't require a wooden support frame, you never have to worry about your spa warping or rotting because of water exposure.
Lightweight and portable. Moving your spa is simple thanks to the lightweight design, built without heavy fillers or internal structures.
Environmentally friendly design. Dream Maker Spas shells are built using 100 percent of recyclable input materials so that no manufacturing waste is produced.
Engineered for efficiency. With an energy efficient pump and substantial insulation, all Dream Maker Spas models are designed to reach and maintain your desired temperature with optimal efficiency.
Patented spa cover. We design and build our own locking thermal covers to ensure they perfectly fit your spa. Each spa purchase includes a cover that retains heat, locks out dirt and debris and offers peace of mind knowing that your spa is sealed.
Digital Controls. Our proprietary Digital Control Systems make operating your spa easy. Select your preferred temperature, water action and LED lighting with the touch of your fingertips.
Easy to clean and maintain. Our patented filtration systems designed exclusively for Dream Maker Spas provide 100 percent water filtration in systems that blend seamlessly into the design of all models. An Easy Access drain valve makes draining your spa simple, and cleaning the smooth shell is as easy as wiping it down with antibacterial cleaner.