EVERY DAY'S A VACATION DAY IN A SHARKLINE POOL
Life used to be a little simpler . . .
There was a time when cell phones, car pooling, fax machines and deadlines weren't a part of everyday life. Today everyone is so busy we forget to stop and smell the roses. At Sharkline Pools we understand this and have developed a line of quality pools to maximize the enjoyment of your leisure time activities.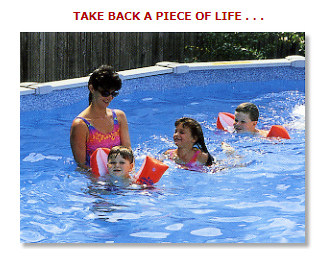 Our Supreme Deck & Fence Series of pools are a combination of technology and design developed to allow you the most enjoyment possible from a quality aboveground swimming pool.
We offer large and small model pools with medium to large size sun decks that create an enviroment to bring everybody together, or simply just for you. We offer the perfect escape from everyday life. The invigorating feeling and long known health benefits of swimming have always been a great reason to own your own pool.
With the number of quality materials we use on all Sharkline pools you can rest assured that it will be a "vacation" that lasts for years, right in the privacy of your own home.
Sharkline Pools Exclusive Advantage 8 Construction System
Like a tall building or large structure, if it's going to last it has to be built right. At Sharkline we recognized this fact a long time ago and have built into a select group of pools our Advantage 8 Construction System. The Advantage 8 Construction System is a combination of design philosophy along with superior materials to create our best pools ever. When incorporated with either a Supreme deck package, Coronodo or Grand Isle this is not a finer pool available. Since 1961 we have satisfied thousands and thousands of homeowners enabling us to become one of the largest pool manufacturers in the world. A pool with the Advantage 8 Construction is not a typical "off the shelf" pool, it's in a class all by itself.
---
Advantage 1
More Uprights On Every Pool
The strength of a bridge is partly determined by the distance between the bridge towers. The closer the towers, the stronger the bridge. Keeping this principle in mind, Sharkline reduced the span between uprights from 57" to 50". The result is a stronger top rail that offers maximum structural stability.
---
Advantage 2

Oversized Corrosion-Free Foundation System With Lifetime Warranty.
Most people don't think much about the foundation of their pool. A weak foundation can lead to high maintenance costs in the future. Knowing this, Sharkline constructs its pools with quality materials that endure the harsh elemenets of nature. Oversized plates, made of Double-coated Marine Quality Aluminum, yield 40% more support than other above-ground pool foundations. The result is a long lasting foundation that continuously stands up to heavy weight and corrosive soil conditions.
---
Advantage 3
Exact-Fit Components
Most manufacturers design universal components to fit many different sizes of pools, leaving many extra holes open when assembly is complete. In swimming pools, extra holes serve as an entry way for corrosion. Sharkline pools never have extra holes because all parts are made specifically for one size pool. This results in pool components that lock out corrosion, which enables your pool to last longer.
---
Advantage 4
Wall Saver Panel
Your swimming pool has the maximum stress at the point where the water enters and exits the pool for filtration. This is where there is the greatest potentential for corrosion or winter damage. The wall panel is specially designed to withstand this stress while allowing you to access and properly maintain your pool.
---
Advantage 5
Stainless Steel Fasteners
All Advantage & Sharkline pools feature high grade stainless steel nuts, bolts, and fasteners. Fasteners made from anything less than stainless steel will corrode over time and introduce corrosion to the metal they come in contact with. Sharkline eliminates the worry of rust spots on your pool with 100% stainless steel fasteners.
---
Advantage 6
Interlocking Stabilizer Rails
The interlocking stabalizer rails on your Sharkline pool fit tightly over your liner and the top of your pool wall. They form a solid ring of stability around your entire pool. This structure locks the liner in place and increases the life of the liner. The all aluminum construction will never corrode, which means you don't have to worry about a time consuming replacement project in the future.
---
Advantage 7
"Acu-Fit" Vinyl Liner
Every Sharkline pool comes with a Sharkline liner. Sharkline liners are only made for Sharkline pools ensuring a perfect fit. We use 100% Virgin Vinyl manufactured with special formulations to withstand everything from intense sunlight to freezing temperatures. These formulations allow the liner to last and look new longer. At Sharkline we warrantee not only manufacturer's defects, but the actual quality of the vinyl itself. You won't find a stronger warranty than that.
---
Advantage 8
Pools & Liners and only Pools & Liners...Since 1961
Sharkline manufactures every pool part and liner. Since 1961, 100% of our engineers' time has been put into designing better pools and liners, guided by customer opinions. Since pools are our only business, you can be confident that Sharkline is an expert in the pool business. Many Sharkline pools built in the 1960's are still providing swimming enjoyment to their owners today. When you buy a Sharkline pool, you know Sharkline will be there for you, in the years to come.
---
Every Supreme Series, Coronoda & Grand Isle Pool Incorporates Our Advantage 8 System.