COVERLOGIX® ADVANCED SAFETY COVER SYSTEMS
Superior Performance and Protection
CoverLogix® Pool Covers
CoverLogix® pool covers are an attractive and functional addition to your outdoor environment. Our covers provide peace of mind by creating a protective barrier that keeps everything out of your pool, including mother nature. It's also comforting to know when you open your pool there will be inviting, clean water waiting for you with mimimim maintenance to get your summer started.**



Extreme Protection Meets Extreme Performance
The 5000 delivers unparalleled performance across every application criteria. Woven with a thicker, heavy-duty thread, the 5000MX is an exclusively designed mesh providing a new level of durability, strength and sun protection.
The 5000 Series comes standard with our extreme suspension package, sporting double-tension "commercial grade" springs that have the muscle to take on anything nature dishes out.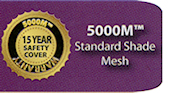 5000 Self-Draining Mesh - This durable micro weave fabric has the highest abrasion resistance and tear strength in its class. It filters debris and dirt while allowing water to freely drain through the mesh. A good choice for a combination of protection and value.


**Properly winterizing your pool in conjunction with a CoverLogix® safety cover will provide maximum protection against algae growth. With 91% sunblock, the 5,000M, may be less effective in minimizing algae growth in certain installations.