Put a smile on their faces... not a dent in your wallet. If the cost of a pool project has been delaying your decision, Sutherland offers an alternative that just might be the answer.

Versatility and looks at a great value... - The Sutherland Hybrid is made in round or oval shapes with a safe swimming depth for novice and expert swimmers. The pool is equally at home as full in-ground pool, partially out or above-ground as your budget may allow.

With a Hybrid you are in control of the costs. You specify your choice of shape, installation option, insert design, ladder/step/bench insert options and add your deck to fit your style sense and your budget. That's the benefit of going Hybrid!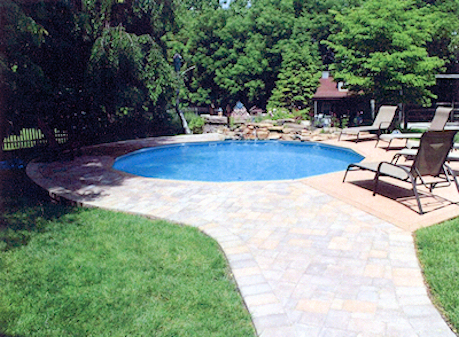 The Sutherland Hybrid offers loads of options that you can combine to fit your wish list as well as your budget! Let us help you build the perfect pool for your family today!
The Sutherland Hybrid can be adapted to any back yard. Sloped yards do not need expensive grading and retaining walls. The 52" wall depth gives more water to enjoy.