TIRED? STRESSED? BORED? YOU NEED A SUTHERLAND POOL!
No Work. All Play. In a fast-paced world of work, traffic jams and busy schedules, one needs to get away to where there us no stress, no bills, no traffic. Welcome to the world of Sutherland Pools, just a few steps from your back door.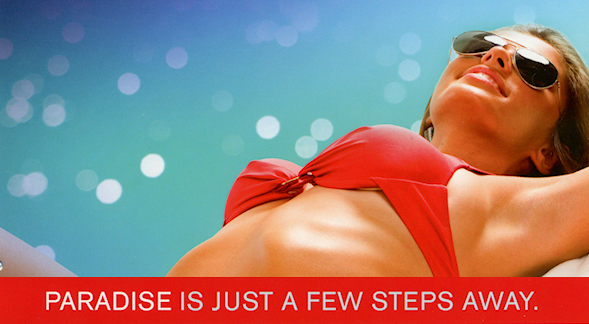 A SUTHERLAND POOL... SAVES MONEY. SAVES CHEMICALS. SAVES CLEANING. AND THAT MEANS MORE FUN. Perfect for that second home. A Sutherland Pool that practically takes care of itself. Ask us to show you the full range of options to maximize your pool experience. Choose from a variety of features, including heaters, waterfalls, fountains, mood lighting, cleaners and automatic sanitizers to enhance your Sutherland enjoyment. Life is too short to spend it cleaning your pool.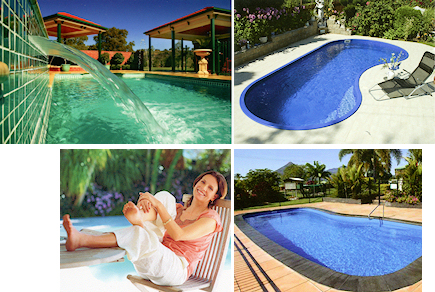 ---
YOUR DREAM POOL... IT'S FAMILY FUN
Since Roman times, engineers and builders have struggled to provide a long-lasting, time-saving and affordable way to enjoy swimming pools close to home. Sutherland PoolsThat solution is yours to own and enjoy in the Sutherland brand of fiberglass pools. Pioneered in the USA, the polymer fiberglass process was perfected in the rugged Australian outback. Offering nine styles, in eight eye catching colors, we have a shape and feature for every backyard.
SUTHERLAND FEATURES INCLUDE:

9 different styles - 27 models in 8 amazing colors, gives you 216 model choices! 216 custom model possibilities. Non-skid walk surfaces. Swim ledge. Relaxation station with Parasol. Energizer bench. Dual entry, walk-in steps. A size for every yard. Bench-seating for your guests. Resistance swimming options.
THE WONDER FROM DOWN UNDER
Fifty percent of all pools in Australia are fiberglass. The gel-coat finish was engineered to survive the blistering sun and high UV that the rugged Australian outback climate throws at it. With this protective finish you get the beauty of designer colors, unaffected by the heat. Due to the superior gel-coat finish, all Sutherland pools come with an unprecedented 10-year surface warranty. Sutherland Pools are built in a climate-controlled, 35,000 square foot facility to exact production standards that ensure quality control that cannot be surpassed by the typical job site constructed pool.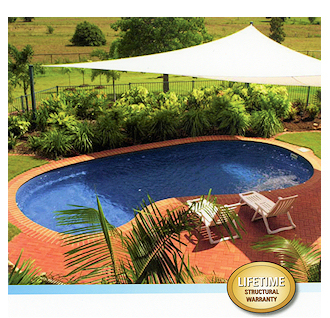 THE PERFECT SUTHERLAND POOL FORMULA
GRAB YOUR SHADES, A TOWEL & WALK INTO YOUR OWN SUTHERLAND POOL. The Sutherland shell uses no fillers that could affect structural integrity. Only the best and purest components are used in the manufacture. We use no inert ingredients. The fiberglass laminate application process exceeds US Standards. What this means for you is peace of mind in a Sutherland Pool that is able to withstand ground movement and frost heaves. The structure is so strong that it comes with a lifetime warranty and a transferable ownership option.
FROM "YES!" TO SWIMMING IN LESS TIME THAN YOU THINK. Because Rieiera brand pools are built under ideal factory conditions, the time spent completing the project is much less than other types of construction. The disruption and building time is kept to a minimum. We can help you realize your dream.
BE GREEN...SAVE GREEN. Owning a Sutherland Pool means; low chemical maintenance and energy-saving equipment costs. Combine this with salt-water treatment for a low-impact environmental pool with mimimal energy and chemical costs.

---
CONSTRUCTION
IT'S NOT JUST ABOUT FUN. Pool ownership is a serious business. It's about providing a safe, beautiful addition to your backyard and family fun. It's a decision that takes careful consideration. When you choose our Sutherland model, you'll know your pool is built to the highest standards. Your new pool - the focus of your backyard entertaining and family activities, will provide years of carefree ownership. Sutherland Fiberglass PoolsWe realize that is not a snap decision and takes careful consideration. That's why a Sutherland Pool is built to the highest standards to help put your mind at ease. The fiberglass process exceeds most industry standards for quality and durability. The resulting swimming pool, while being the focal point of your backyard entertaining, will provide years of carefree ownership. Lasting value and the transferable ownership complements your property value.
FROM "YES" TO SWIM, FASTER THAN ANY OTHER TYPE OF CONSTRUCTION. DO NOT use or condone the use of any filler in fiberglass pools. Sutherland Pools have the best procedures in the industry for the construction of fiberglass pools. We have the most highly trained and experienced staff available in our industry. We use 50% more material on all our pools than American standards require. When you buy a Sutherland Pool, you can be assured that you bought the absolute best fiberglass swimming pool that money can buy.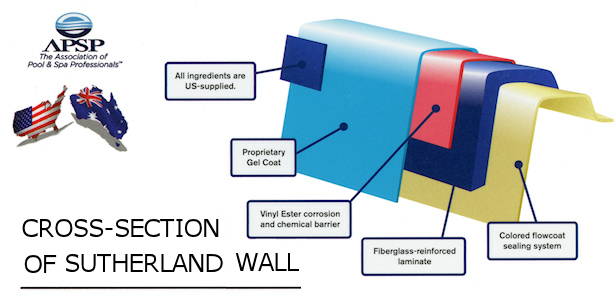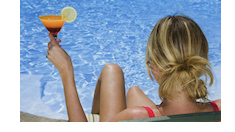 Talk with us about installing safety devices, such as pool surface alarms, safety covers and child safety barriers. You should have a gated, locked fence surrounding your pool area that complies with APSP guidelines as well as your local building and safety codes. In some pictures, safety line rope and floats have been removed from the pool for photographic purposes. Safety ropes should always be used. Sutherland fiberglass pools are non-diving, and diving boards and quick entry devices are not to be installed for use with a Sutherland fiberglass pool. Sutherland Pools has been very selective in ensuring that its products are represented by the most qualified builders. Sutherland Pools takes full responsibility for delivering quality products to the builder and stands behind that product with a written warranty. The hand-crafter way we build our pools to order means that you can expect some variations in color and finish.