Swimming Pool Waterfalls by RicoRock® Inc. - better waterfalls, by design

In 2014 we celebrated ten years at our Orlando office but our company history goes back over 35 years. Our parent company pioneered the use of artificial rock on swimming pools in Orange County, CA. starting in 1979. The founder and key people are still involved with RicoRock Inc. although our focus now is providing creative rock products to the entire pool industry. Some of our favorite projects are featured below.
Our swimming hole pools were a radical departure from conventional pools in the late 1980's. Now resort type pools are a more popular style. Remodels were a specialty of our parent company. Our most unusual project was built on a barge near Cincinatti, Mid American Gunite Pools was the pool company. The Radisson Aruba is one of our largest projects.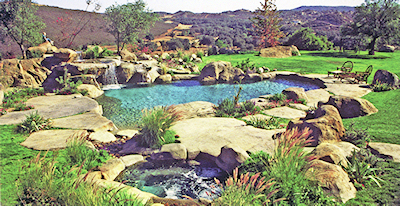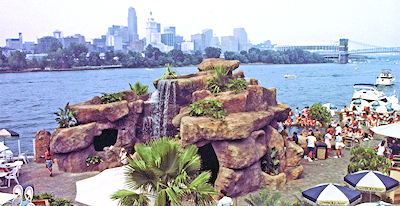 Our signature project is Hugh Heffner's Playmate House, across the street from the mansion. This remodel won a gold medal from the National Spa Pool Institute (now ASAP).
Please Choose Below For Additional Information